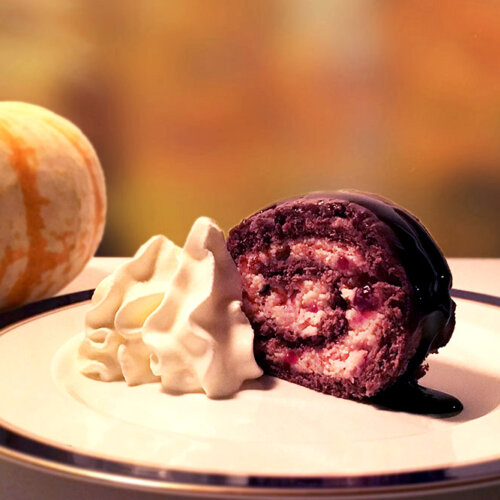 Chocolate Swiss roll with lingonberry cream filling
Swiss roll cake is a very typical "fika" pastry in Sweden. One of the best things about this cake is that it can be done in many different ways, with lots of different cakes, fillings and toppings, meaning there are almost endless possibilites to find your own favorite. In this recipe, we have combined a classic chocolate Swiss roll recipe with our delicious Felix lingonberry jam, to make a great tasting twist on the filling. It is really easy to do, which is perfect if you are having some friends over for coffee, but not a whole lot of time to prepare.
Ingredients
Chocolate Cake
3

eggs

2/3

cup

granulated sugar

1/3

cup

potato flour

3

tbsp

cocoa powder

1

tsp

baking powder
Lingonberry Cream Filling
4/5

cup

butter

1 2/3

cup

powdered sugar

3

tbsp

Felix lingonberry jam
Chocolate Frosting
1/8

cup

butter

4/5

cup

powdered sugar

3

tbsp

cocoa powder

1

tbsp

milk

1

egg white
To Serve
whipped cream

lingonberries

chocolate syrup
Instructions
Chocolate Cake
Pre-heat the oven to 440°F.

Beat eggs and sugar together with a hand mixer. Mix in potato flour, cocoa powder and baking powder. Sift dry ingredients into the batter.

Place parchment paper on a baking tray and spread out the batter evenly. Bake in the oven, about 6 minutes. Flip the cake onto another sugared parchment paper and remove the old parchment paper. Let cake cool for a moment.
Lingonberry Cream Filling
Knead the butter smooth. Stir in powdered sugar and Felix lingonberry jam.

Spread the cream gently over the cake, leave 1 inch around all edges. Roll the cake up gently (from the long side) and place it with the edge down.
Chocolate Frosting
Melt butter in a saucepan. Stir in powdered sugar, cocoa powder and milk. Let cool. Beat the egg white to a foam and fold into the frosting. Pour gently over the roll.

Place the cake in refrigerator for approximately 20 minutes before serving.

Garnish with lingonberries and chocolate syrup, and serve with whipped cream.