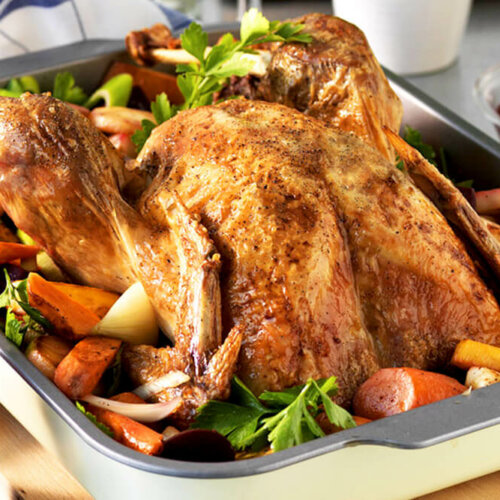 Roasted turkey and lingonberry jam
Eating turkey is tightly associated with the tradition of Thanksgiving dinner, but did you know that serving some lingonberry jam with this delicious meal, makes the experience even more delicious? Many people claim that lingonberries are the Swedish equivalent of cranberries, but you do not have to choose just one or the other as a condiment at your fabulous dinner party. We simply suggest that you give your guests a nice surprise, and serve them the lingonberry jam as well.
Ingredients
Roasted turkey
1

turkey

approx 11 lb

3

tbsp

melted butter

2

tbsp

soy sauce

A dash of salt and white pepper
Stuffing
10.5

oz

prunes

3-4

apples

cut into wedges

1/2

lemon
For the roasting pan
1

cup

water

1

yellow onion

cut into pieces

1

red onion

cut into pieces

2

carrots

cut into pieces

Some dried juniper berries
Sauce
Broth from the turkey

+ additional liquid chicken broth

1 1/5

cups

cream

4-6

tbsp

flour

3

tbsp

red och blackcurrant jelly

A dash of salt and white pepper
To serve
Potatoes

Brussel sprouts

Pickled gherkins

Felix lingonberry jam
Instructions
Roasted turkey
Fill the turkey with the stuffing and then tie its legs together. Put half of the lemon by the turkey's throat.

Mix the melted butter with the soy sauce and the spices, then use this to glaze the turkey.

Roast at 435°F for 30 minutes. Remove the turkey and reduce the temperature to 350°F.

Add the chopped up onions and carrots together with the water and the juniper berries to the frying pan. Then flip the turkey (backside up) and put the frying pan back in the oven.

Occasionally pour the fluid over the turkey while it remains in the oven. Turn it around again (chest now upwards) when there is 30 minutes of cooking time remaining. You should calculate approximately 30 minutes of cooking time per 2-3 lb of turkey. The internal temperature (by the thighbone and breastbone) should be 175°F.

If the skin of the turkey starts to burn, simply put some aluminum foil on top of the turkey. When done, keep the turkey warm while preparing the sauce.
Sauce
Boil the broth from the turkey and add the cream. You can also add some more liquid chicken broth if you like.

Thicken the sauce with flour. Season with salt, pepper and black or red currant jelly.
To serve
Serve the turkey with boiled or mashed potatoes, sauce, brussels sprouts, pickled gherkins and a large spoonful of Felix lingonberry jam with ginger.
Notes
In this recipe, we suggest that you serve with potatoes or mashed potatoes, so you have to take this into account as well, when you are cooking your lovely turkey dinner. Since we don't have the instructions for that here.