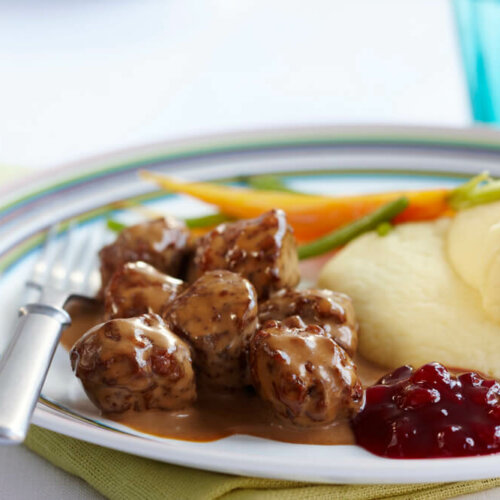 Swedish meatballs with cream sauce and lingonberry jam
There is probably no other dish that is so connected to Swedish cuisine, as meatballs with cream sauce and lingonberry jam. We are giving you a basic and super delicious recipe, but it is such a versatile dish that it lets you add your own flavors and twists to the recipe.
Ingredients
Meatballs
1/3

cup

breadcrumbs

2/3

cup

milk

1/2

lb

ground beef

1/2

lb

ground pork

1 1/2

tsp

salt

1

egg

2

tbsp

yellow onion

finely chopped

1/2

tsp

ground allspice

1

tbsp

beef broth

A dash of white pepper

Some butter or oil
Cream Sauce
10 1/2

oz

beef broth or gravy

1/4

cup

flour

1/2

cup

milk

1

tsp

soy sauce

1/4

cup

whipping cream

1

tbsp

black currant jelly

Salt and pepper to taste
Instructions
Combine bread crumbs and milk in a bowl and let it stand for about 10 minutes.

Stir in beef, pork and salt. Mix in egg, onion, broth, allspice and pepper.

Shape into approximately 24 balls and place on a wet cutting board.

In frying pan, melt a small amount butter. Add the meatballs in batches and quickly brown the surface of them, then fry for about five more minutes until evenly browned and cooked through. Remove from pan and keep warm while cooking remaining meatballs.

Bring the beef broth to a boil.

Mix flour and milk, then stir the mix into the broth. Add the soy sauce, cream and blackcurrant jelly.

Simmer for about five minutes. Season with salt and pepper.

Serve the meatballs with e.g. mashed potatoes, cream sauce, and of course a large dollop of Felix lingonberry jam.
Notes
This recipe is only for the meatballs and the sauce. You have to add vegetables and e.g. mashed potatoes as well.